Angélique at the Movies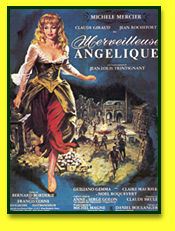 The potential for turning the Angélique books into movies was first realised in the 1960s when five French language films based were released.
They starred Michèle Mercier, a young but experienced actress from Nice, as Angélique, and Robert Hossein as Joffrey de Peyrac.
It is believed that Mike Todd, who was famous for producing Around the World in 80 Days and perhaps more famous for one time being married to Elizabeth Taylor, had been interested in producing the films, but he died in a plane crash before he could undertake the project.
Instead, they were directed by Frenchman Bernard Borderie. All five were produced by Francis Cosne - the final two in partnership with Francois Chavane.
Today the films are still shown regularly on TV in French-speaking countries as well as in Italy, Japan and Russia, so were certainly a commercial success. But it has to be said that Anne Golon herself has stated that she was not satisfied with the end result.
In a recent interview she explained that she hopes to see new versions of the books dramatised for the screen, and revealed:
"One of my wishes is to see the film made the way Angélique was, because in the first films, Michèle Mercier was chosen because she was the girlfriend of the director.
"In those films Angélique is written to be like Michèle Mercier, and not like she really is. So I would like to see a film with the real Angélique."
She added that Gone With The Wind - a story which she admits helped to inspire the whole Angélique saga - was a good example of a good movie "done by good people, close to the book". The Angélique films should be remade, she said, "by people who love it and understand it".
For her part, Michèle Mercier also had regrets about the films in later life. She had already acted in 26 films before she played Angélique for the first time, but in future would be remembered most for being the screen personification of Anne Golon's heroine.
She recalled her introduction to the role in an article in the French magazine, Paris Match, in October 1995, explaining:
"Angélique has been an important part of my life and everything that ties me to her still moves me. Even 30 years later.
"Maybe she resembled me too much, or maybe I put too much passion into my interpretation, I don't know.
"And yet, I have played in many other movies. Under the direction of Truffaut, Melville, Deray, Dino Risi, Monicelli, Zampa, Lizzani - but for 30 years everywhere I go, people don't speak of my career, they only speak of Angélique.
"The try-outs took place in a studio that was more like a hangar in the middle of which stood a ladder. Surrounded by a group of their friends who were yacking away, the producer and director asked me to express my feelings.
"They transformed me in turn into a half-feeble pigtailed kid and a resourceful courtesan. I found it all stupid. When Bernard Borderie, the director, finally asked me to simulate anger, I lost my temper for real.
"They wanted to see anger and they got their money's worth. I called them sadists and all kinds of other names. Then I left the set. I had given up the part as lost.
"The next day, by telephone, I learned that I was hired!
"I later found out that what had convinced the authors, the producer and the director, had in fact been that unforeseen explosion of anger!"
By the 1990s she was still trying to shake off Angélique in a bid to make a new start and even sold off her Angélique movie costumes to try to make a clean break.
But it seems to have been in vain. Her autobiography is being translated into Russian because the Angélique stories and the films continue to be highly popular in Russia and wherever the films are shown she is still synonymous with Anne Golon's heroine.
For millions - and whether we like it or not - Michèle Mercier is the face of Angélique. The following details have been translated from a French TV magazine, believed to be Tele-Loisirs, and believed to have been published in 1995. They refer to the films as "adventure films".
---
Angélique, Marquise des Anges
(Angélique, Marquise of the Angels)
Angélique de Sance is married against her will to the wealthy Joffrey de Peyrac. At first the young woman only feels repulsion for him. Furthermore, he is said to be a sorcerer. However, little by little, she discovers her husband's true nature and falls in love with him. One day, the king of France, Louis XIV, stops by Peyrac's chateau. The luxury of the premises and Angélique's beauty irritate the monarch.
Released: 1964 Duration: 115 minutes
---
Merveilleuse Angélique
(Marvellous Angélique)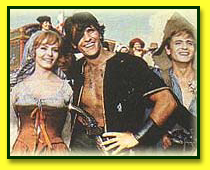 Following Joffrey de Peyrac's burning at the stake on the king's orders, the beautiful Angélique finds a refuge at the Court of Miracles with Nicolas, her childhood friend. Unfortunately, the young man is killed during a beggars' gang fight. Angélique, who has finally found her children again, opens a grill-room under an assumed name. But another friend, Claude, denounces the powerful men of the kingdom in his violent pamphlets.
Released: 1964 Duration: 105 minutes
---
Angélique et le Roy
(Angélique and the King)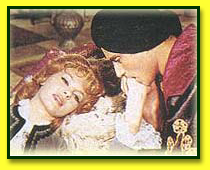 Angélique has retired to her estate, but King Louis XIV entrusts her with a mission involving Bachtiary-bey, the Persian ambassador. The diplomat soon falls in love with the young woman and confines her in order to conquer her resistance. When she returns to court, Angélique is the object of a rumour; she is said to be the king's new mistress, which exasperates Madame de Montespan.
Released: 1966 Duration: 100 minutes
---
Indomptable Angélique
(Indomitable Angélique)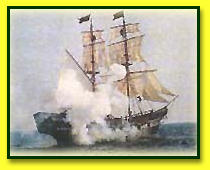 Angélique leaves the king and the court to try to find her husband, Joffrey de Peyrac. In the Mediterranean she embarks on a galley which is soon attacked by Barbaresque pirates. Angélique jumps overboard, not knowing that the pirates' chief, the Rescator, is in fact Peyrac. Rescued by a man named d'Escrainville, she has to fight his advances. Furious, he decides sell her at the Candia slave market.
Released: 1967 Duration: 95 minutes
---
Angélique et le Sultan
(Angélique and the Sultan)
Angélique has been kidnapped and taken onboard a ship commanded by d'Escrainville. Joffrey de Peyrac sets off after him and the two ships go into a merciless battle. Vanquished, d'Escrainville surrenders but Angélique has already been delivered to the slave market and sold for the Sultan of Morocco's harem. In spite of the monarch's charm, Angélique rebels. She is condemned to be whipped publicly. Meanwhile, Peyrac continues searching for her.
Released: 1967 Duration: 90 minutes
---
The Soundtrack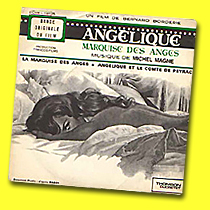 An album of the soundtrack from the series was produced when the first film was released.

The music was written and conducted by Michel Magne, the French composer who won an Oscar nomination in 1963 for his score of Gigot, starring Jackie Gleason.

Magne also wrote music for a string of other films, including the cult science fiction romp, Barbarella, but sadly committed suicide in 1984 at the age of 54.

Copies of the vinyl album of the Angélique soundtrack are now something of a collector's item, but the music is also available on CD.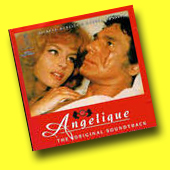 It was spotted by Dutch reader Geert Dulst, who told us: "About twenty years ago, I saw the Angélique movies on TV, and I remember that I was also touched by the fabulous music of the soundtrack. I've searched quite a time to find that music on CD and at last I've found it."
Geert told us that it can be purchased via the Internet through the website of Dutch music company, Basta (www.basta.nl).
---
Monteloup at the Movies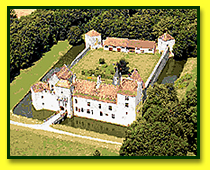 A real-life French chateau was used in the first film, Angélique, Marquise des Anges.

The castle of Marigny le Cahouet (below) was built in the 14th Century on the ruins of a 12th Century castle, then re-built to its present shape in the 17th Century.

Fortunately spared during the French Revolution of 1789, it comprises four buildings and a chapel linked by high walls and towers, surrounded by wide ditches.

The castle is still privately owned and inhabited, so visits are difficult, but it is possible to visit the park during the summer.
---
Bardot's Blunder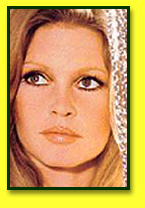 Legendary actress Brigitte Bardot is an Angélique fan and regretted turning down the chance to play our heroine in the French films.

In her autobiographical book, Initiales BB: M'emoires, she reveals: "Among all the useless things my luggage contained was the Angélique series. I had refused to film the adaptation without even having glanced at it... That will teach me to make hasty final judgements! I threw myself body and soul into the thrilling adventures of the exceptional Angélique, who was consequently played superbly by Michele Mercier."
---
Movie Art
The artwork below has kindly been copied to us by Belgian Angélique fan Peter Hinoul. They are folders, believed to have been produced for the German movie market in the 1960s - probably press packs.